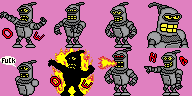 Bebder Game is getting a reboot soon and it is being actively worked on now!
Bebder Game: Bebder Than the Rest (BTR) is a reboot of the cult classic RPG game "Bebder Game" made by Bebder Corp Industries Incorporated Limited Unlimited!
Fans of the original game will be delighted to hear that BTR will almost like experiencing Bebder Game for the first time again with new map design, improved graphics, new battle commands, fast travel, new areas to explore, and lots more humorous dialogue you loved in the first game! Bebder has new sprites to express his character better and new dialogue during battle to make enemy encounters more enjoyable and less repetitive. Every single enemy in BTR will have 3 different reactions each for how they react to Bebder glaring at them!
(I've had a pretty hard time recently getting motivated to make the game as good as I possibly can, but I've just recently been getting over the loss of my dog and my inability to do anything due to recent problems with ADHD, I just recently went on some medication to help with ADHD and now I feel like I can do anything with my game when before I was struggling. I am sorry for taking so long to release a new version of this game but once BTR releases, hopefully it will have been worth the wait!)